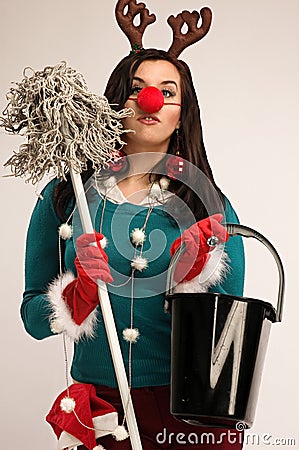 What's the fuss over Spring cleaning all about, anyway? This is the perfect time of the year to make a list, check it twice, and knock some projects off it. With relatives coming over and the hustle and bustle of decorating, a few home cleaning time-savers can make the holidays even brighter. If your New Years resolution is to keep your home cleaner, then why wait until January 1st?
Get Your Boots in a Row
Snow, salt, and ice can wreak havoc on your floors, especially if they are wood or carpet. This tip from Carolina Flooring Services will keep your floors from sustaining too much damage from kids, guests, or pets trekking snow into the home. Replace your doormats with waterproof, textured mats that do a better job of scraping unwanted substances before they enter your house.
Keep Air Clean
With your windows firmly shut for the cold weather, air quality can suffer during the winter. Reduce indoor air pollution by changing your furnace filter monthly. Bonus: this will also help you save on energy bills!
Organize the Kitchen
Between Christmas cookies, holiday dinners, and home-cooked meals on wintry days, your kitchen gets a workout this time of the year. Make the process less stressful by taking the time to reorganize the kitchen, pack away unused dishes and pans, and make some room. It's also a great time to clean out your pantry and donate unneeded items to your local food bank.
Get Rid of Grime
MoneyCrashers published a great tip for winter cleaning that will freshen up your kitchen for spring. Excess moisture and smoke from all of your home cooked meals leave a layer of grime on your kitchen walls and ceilings that can add a lot of wear and tear over time. Simply washing surfaces with a mix of dish soap and water can have your kitchen sparkling again in no time.
Dust Often
Dragging out holiday decorations brings a lot of unwanted dust into your living space. U.S. News also points out that the warm dry air in your home during the cold months leads to extra dust all around. Give your home a good dusting, and you'll be amazed at the difference it makes. Be sure to hit your light fixtures to make sure your home is merry and bright!